This article is about a word in the Belter Creole language.
beltalowda
beltalowda
Etymology
Edit
Belta "Belter" + lowda (plural/collective marker)[3]
Disputed attribution
Edit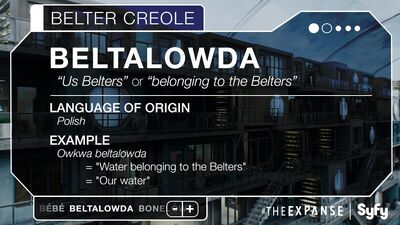 This image was seen on the SyFy website, and tweeted by the account used for promoting the show, but its listed etymology is incorrect (not Polish origin), according to the developer of Belter Creole, Nick Farmer.[4][5]
See also
Edit
References
External links
Edit
Ad blocker interference detected!
Wikia is a free-to-use site that makes money from advertising. We have a modified experience for viewers using ad blockers

Wikia is not accessible if you've made further modifications. Remove the custom ad blocker rule(s) and the page will load as expected.