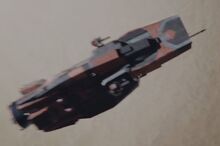 A Destroyer a type of warship used by both the UNN and the MCRN. Currently there is little to no information as to the dimensions and capabilities of these vessels. In Season 2 Episode 11 "Here There Be Dragons" an "Undeclared" MCRN Destroyer made its primary debut. The vessel appears to be small in size, similar to a corvette. The vessel posses two or more PDCs. The ship also has 2 Torpedo Launchers on its bow.
Known ships
Edit
Designation
Class
Notes
MCRN Karakum
MCRN Destroyer
MCRN Scipio Africanus
Patrol Destroyer
Damaged by rock-throwing attack, in Rock Bottom.
MCRN Shandian
Stealth Destroyer

Shadowed the UNS Arboghast over Venus
| Designation | Class | Notes |
| --- | --- | --- |
| UNN Zhang Fei | Unknown Destroyer Class | James Holden served on this vessel and was dishonorably discharged after attempting to assault his captain. |
| UNN Seung Un | unknown destroyer class | |
| UNN Munroe | Munroe Class Destroyer | |
References
- The "Skiff" that the MCRN Yangtse sends out is the same visual model as the MCRN Destroyer.
Ad blocker interference detected!
Wikia is a free-to-use site that makes money from advertising. We have a modified experience for viewers using ad blockers

Wikia is not accessible if you've made further modifications. Remove the custom ad blocker rule(s) and the page will load as expected.