This article is a disambiguation page for Octavia Muss.
The following is a list of links to pages that might share the same title.

Please follow one of the disambiguation links below or
search
to find the page you were looking for if it is not listed. If an
internal link
led you here, you may wish to change the link to point directly to the intended article.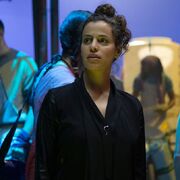 Octavia Muss is a detective for Star Helix Security on Ceres Station, working alongside Josephus Miller. She appears both in The Expanse novels and The Expanse TV show.
For information on Octavia Muss in various media, see:
Ad blocker interference detected!
Wikia is a free-to-use site that makes money from advertising. We have a modified experience for viewers using ad blockers

Wikia is not accessible if you've made further modifications. Remove the custom ad blocker rule(s) and the page will load as expected.