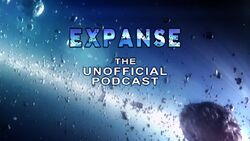 Premiered on October 12, 2015. It strives to release one episode per week. The podcast is produced independently by fans of the books and show, and has no affiliation with SyFy or Alcon Entertainment.
In the weeks prior to the series premiere on December 14, 2015, each episode focused on a different main character, and the actor who portrays them in the series. Following the premiere, each episode will focus on reviewing and recapping the most recent episode of The Expanse. During the hiatus after season 1 the podcast will change focus to other characters, locations, or ships in The Expanse universe.
Spoilers
Edit
The podcast is kept as spoiler-free as possible, giving listeners who may not have read the Expanse novels the opportunity to better understand the universe of the show prior to viewing.
The show is hosted by Lex Starwalker, and Nikki Starwalker.
Episodes
Edit
A weekly fan podcast by Solo Talk Media. This is a weekly review podcast covering thoughts and theories up to, and including the most recent episode of The Expanse.
Shortly after each week's television broadcast a short episode of the podcast called a Double Take will be released. The Double Take is a 5-10 minute episode covering first impressions of the most recent episode of The Expanse and asking a few questions in the hopes of obtaining feedback for the longer review podcast released a few days later.
A few days after each television broadcast a full length review podcast will be released going over recent news about The Expanse. It then covers the episode in detail and discusses any thoughts and theories about what's happened and whats to come. The podcast then concludes with listener submitted feedback.
Spoilers
Edit
The Expanse Podcast - Tales From The Rocinante is a spoiler free podcast. Future fans watching The Expanse for the first time will be able to follow along with this podcast without worrying about being spoiled.
This show is hosted by Mark Des Cotes, owner of Solo Talk Media.
Episodes
Edit
Other Podcasts
Edit
Scott Sigler Podcast
Edit
"The Friday Fix - November 20, 2015" - a spoiler-free review of the first 4 episodes.
Ad blocker interference detected!
Wikia is a free-to-use site that makes money from advertising. We have a modified experience for viewers using ad blockers

Wikia is not accessible if you've made further modifications. Remove the custom ad blocker rule(s) and the page will load as expected.