The Razorback is a racing pinnace,  (boat used to ferry people and supplies to and from a ship and can be docked on the ship),  used by Julie Mao Books • TV and owned by her father Jules Pierre Mao
She is a long and sleek ship with an engine housing twice as large as that of a normal ship its size. As a ships boat the Razorback would have a length of 20-30 meters. It has engines that have been optimized for racing and likely has minimal mass and thus minimal equipment in order to maximize speed and maneuverability.
Background
Edit
After Julie left Earth and Luna for Ceres Station and joined the OPA, the Razorback remained there, docked at her father's space station in Earth's L1. Her father threatened unsuccessfully to sell the ship to entice Julie to return to her family.
Eros Incident
Edit
When Julie was assimilated into the protomolecule life-form on Eros during the Eros incident, the life-form experimented with the station's PA system, forming incoherent sentences though to have been taken from the computer system's data banks. When it repeatedly shouted "You can't take the Razorback!", however, Miller realized that Julie's mind was at the center of the protomolecule life-form.
Ganymede Incident
Edit
When Chrisjen Avasarala and Bobbie Draper were taken prisoner aboard the Guanshiyin, the yacht of Julie's father Jules-Pierre Mao, they found the Razorback in one of its shuttle bays and escaped in it.
The Razorback ended up in UN hands. When Avasarala employed Bobbie again, the politician gave her the ship as a payment for favors. Bobbie and Alex Kamal used it to travel to the Hungaria group of asteroids to investigate for Jim Holden.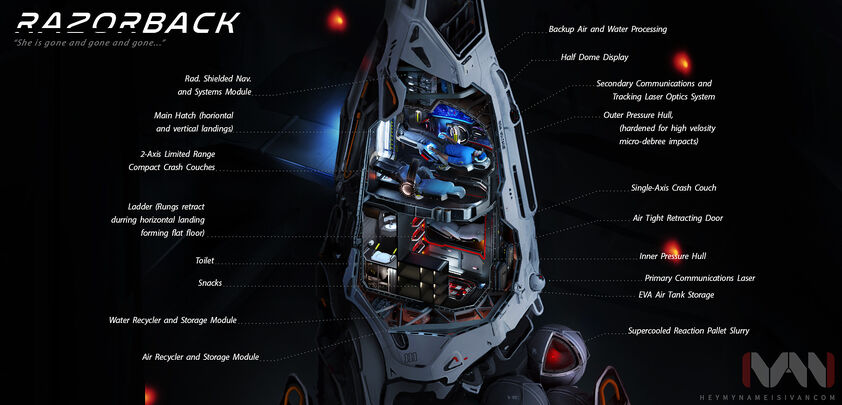 Ad blocker interference detected!
Wikia is a free-to-use site that makes money from advertising. We have a modified experience for viewers using ad blockers

Wikia is not accessible if you've made further modifications. Remove the custom ad blocker rule(s) and the page will load as expected.