The MCRN Scirocco is a high-speed troop carrier with an unknown class designation in the Martian Congressional Republic Navy.  It destroyed Phoebe Station to prevent earth reaching it first.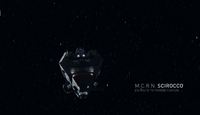 The Scirocco was dispatched by MCRN Command to secure the research station on Phoebe, the same location that the Donnager had been returning from when it was destroyed by Protogen's stealth ships.
When the United Nations Navy also dispatched the larger UNN Nathan Hale to Phoebe, the Scirocco opted to destroy the moon with nuclear torpedoes rather than let it fall into Earth's hands.
The Scirocco was heavily damaged in orbit over Ganymede by United Nations Navy forces during the Ganymede Incident. Much of its crew, including its CO (Commanding Officer) , Lieutenant Sutton, were killed.
Appearances
Edit
Unknowns
Edit
References