Were you looking for info on the book series called The Expanse?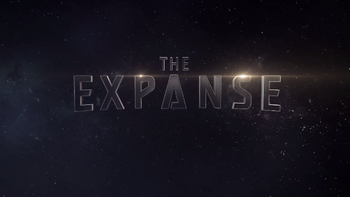 The Expanse is a TV series based on the book series of the same name by Daniel Abraham and Ty Franck (under the pseudonym James S.A. Corey), who will also be among the show's producers and writers. The series is produced by Alcon Entertainment and premiered online through several VOD services on November 23, 2015[1], and premiered on Syfy in the United States, and Space in Canada[2] on December 14, and 15, 2015.
Sean Daniel and Jason Brown of the Sean Daniel Company developed the original pitch with Mark Fergus and Hawk Ostby. Naren Shankar (mostly known for similar work on CSI) is the show runner. The project has been described by industry insiders as "Game of Thrones in space."[Citation needed]
According to the producers of The Expanse, the current plan is to adapt the nine novels into a seven-season run.
The first official trailer for the show was premiered at the Television Critics Association's winter press tour on January 15, 2015.
Synopsis
Edit
A thriller set two hundred years in the future, The Expanse follows the case of a missing young woman who brings a hardened detective and a rogue ship's captain together in a race across the solar system to expose the greatest conspiracy in human history.
Alternate synopsis
Edit
The crew of the Canterbury discover a derelict vessel which holds a secret that may be devastating to human existence.
Recurring
Edit
Production
Edit
Development
Edit
Season 1
Edit
Season 1 premiered online on November 23, 2015[1] and on SyFy and Space on December 14, 2015, and consists of 10 episodes of one hour each.
Season 2
Edit
Season 2 premiered with a double episode on February 1, 2017[12] and consists of 13 episodes total.[13]
Season 3
Edit
Season 3 was announced to premiere on April 11, 2018[14][15][16] and consist of 13 episodes[17] like season 2. Season 3 was the last season broadcast in the US on Syfy channel.[18]
Season 4
Edit
After cancellation by Syfy, Amazon Studios officially acquired The Expanse for season 4.[19][20]
A comic book prequel miniseries to the television show, titled The Expanse Origins, was released in 2017.
Season 3 trailers
Season 2 trailers
Season 1 trailers
Syfy - The Expanse
Why you should watch it
Interviews with authors of the books
Fan videos
References
Edit
↑ Space.ca - [http://www.space.ca/the-expanse-is-coming-to-space/ The Expanse Is Coming To Space, And Here's Why You Should Be Excited] August 27, 2015
↑ Hollywood Reporter - Thomas Jane to Star in Syfy's 'The Expanse' (Exclusive)
↑ Blastr - The Expanse showrunner Naren Shankar on Episode 4's big battles, Belter extreme sports, and Shed's head Adam Swiderski Wed, Dec 30, 2015 3:35pm
↑ 7.0 7.1 Variety - Syfy Returns to its Roots with 'The Expanse,' 'Childhood's End' Laura Prudom, DECEMBER 14, 2015 12:53PM PT
↑ 8.0 8.1 Variety - 'Iron Man' Writers Enter Sci-Fi Mystery TV Project for Alcon, 'The Expanse' Jon Weisman SEPTEMBER 4, 2013 09:58AM PT
↑ Space.com - Syfy's 'The Expanse' Explores a Complicated Future on Far-Flung Worlds By Sarah Lewin, October 16, 2015 01:30pm ET
↑ 10.0 10.1 Space.com - Turning a Sci-Fi Series into a TV Epic: Q&A with 'The Expanse' Authors By Sarah Lewin; December 23, 2015 12:00pm ET
↑ 11.0 11.1 11.2 Daniel Abraham - Long-promised news on the TV Show 07.15.14
↑ Variety - 'The Expanse' Gets Season 2 on Syfy by Whitney Friedlander December 31, 2015 10:30AM PT
↑ Deadline Hollywood - 'The Expanse' Sets Season 3 Premiere Date; Unveils Trailer by Denise Petski February 23, 2018 1:00pm
↑ Deadline Hollywood - 'The Expanse' Renewed For Season 3 By Syfy by Nellie Andreeva March 16, 2017 2:00pm
↑ Deadline Hollywood - 'The Expanse' To End On Syfy With Season 3, Will Be Shopped Elsewhere By Alcon by Nellie Andreeva May 10, 2018 9:00pm
↑ Deadline Hollywood - 'The Expanse' Picked Up By Amazon For Season 4 After Syfy Cancellation by Nellie Andreeva May 25, 2018 9:46pm
↑ The Hollywood Reporter - 'The Expanse' Revived for Season 4 at Amazon by Lesley Goldberg; May 21, 2018 3:00pm PT
See also
Edit
External links
Edit
Online viewing purchase
Overview