HEY EVERYONE!
We had the opportunity to see the cast and executive producers of The Expanse at New York Comic Con! Off the bat, the best part was we got to see the first episode of the show, which premieres in December. It was SO GOOD! The acting was amazing, the props and set were incredible, and they really reflect the books well.
Here are some fun facts that we learned...

A linguist created a whole new language for the series. They treated the language like it was real and made the actors pronounce every word correctly. Hand gestures are a part of the language, which is a reflection of early space when that's how they communicated.
They used very little green screen.
There are ANIMALS in space in the show, like a bird and a rat. The executive producers explained that animals sneak onto the ships from Earth.
The producers are channeling the books and plan on following the plot pretty closely. They are even bringing in the novellas!
There is a mixture of accents on the show. It's really fun to actually see on the screen!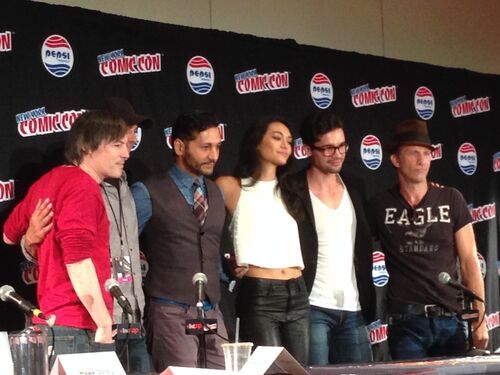 Thomas Jane, Florence Faivre, Steven Strait, and Cas Anvar were all present and had nothing but great things to say about working on the set. Florence, who plays Julie Mao, loved shooting the "0g" (no gravity) scenes and learning to "dance in the sky". "You're not just thinking about the character- you're thinking about how they move in Og." Straight, who plays Jim Holden, explained that they even had a choreographer for the 0g scenes that they shot with suspended wire.
All in all, the panel was a blast. We can't wait to see more episodes of The Expanse this winter!
---
---
Ad blocker interference detected!
Wikia is a free-to-use site that makes money from advertising. We have a modified experience for viewers using ad blockers

Wikia is not accessible if you've made further modifications. Remove the custom ad blocker rule(s) and the page will load as expected.