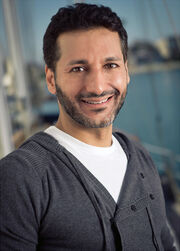 More casting news come trickling out. Although this one hasn't been announced yet,
Cas Anvar
has popped up as 
Alex Kamal
on
The Expanse's IMDB page
!
Anvar has had over 50 major roles in movies and television. He played in another Syfy series, Neverland, and he has also played in sci-fi such as the blockbuster movie Source Code and Lost.
Ad blocker interference detected!
Wikia is a free-to-use site that makes money from advertising. We have a modified experience for viewers using ad blockers

Wikia is not accessible if you've made further modifications. Remove the custom ad blocker rule(s) and the page will load as expected.