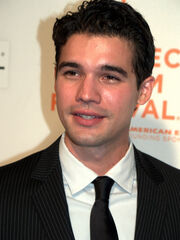 More big news on SyFy's upcoming
The Expanse
TV series: American actor
Steven Strait
will star as
Holden
, and Iranian American actor
Shohreh Aghdashloo
will play
Avasarala
!
[1]
This comes in addition to last month's reveal of
Thomas Jane starring as Miller
.
Steven Strait starred in the two-season TV series Magic City, and has also starred in the 2012 sci-fi thriller After. Aghdashloo was nominated for an Academy Award for her performance in House of Sand and Fog (2003) and won a Primetime Emmy for the HBO miniseries House of Saddam (2008), both awarded for her work as supporting actress; in the sci-fi department she had a minor role in X-Men: The Last Stand.
All three cast members are slightly younger than their book counterparts – Strait (28) plays Holden (30), Aghdashloo (62) plays Avasarala (in her seventies) and Jane (45) plays Miller (49) – but not much.
More interesting is the fact that the cast for the 10 episode series so far includes characters from the two first books, Leviathan Wakes and Caliban's War, which suggests that we will not get a full season treatment for each book.
Ad blocker interference detected!
Wikia is a free-to-use site that makes money from advertising. We have a modified experience for viewers using ad blockers

Wikia is not accessible if you've made further modifications. Remove the custom ad blocker rule(s) and the page will load as expected.